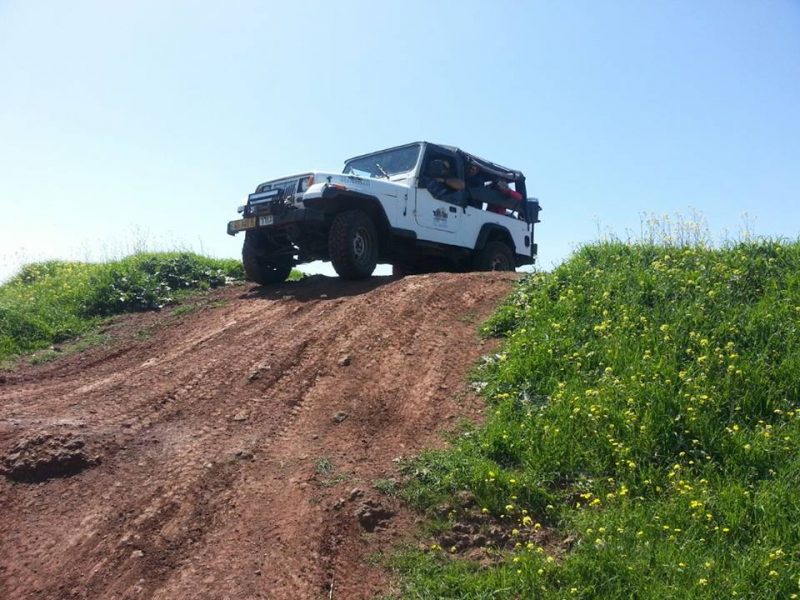 A Golan Jeep Tour takes you into the depths of the beautiful and fascinating landscape of the Golan Heights, Israel's most remote northern-most region. A jeep tour in the Golan enables you to venture further off the road than the average tourist ever would, right into the heart of the hills and valleys that characterize this incredible region, with its incredible nature, wildlife, history, and modern-day activity. Driving along dirt tracks, passing through streams, through orchards and groves, small villages, and extinct volcanic landforms, a Golan jeep tour is a rich and diverse experience, perfect for groups of all ages.
Jeep tour Highlights
A standard Golan jeep tour lasts for 2 hours and includes the following highlights.
Start in Kibbutz Merom Golan, hear about the history and formation of the kibbutz, and its iconic features such as the dining hall and communal structure
Drive through fruit fields of cherries and apples, and learn about the Golan's thriving agriculture industry
Pass by man-made reservoirs which collect rainwater used locally, and sent across Israel through the national water carrier
Cross the Golan's rocky volcanic landscape, through natural streams and ascents, as well as remnants from previous wars, such as the anti-tank ditches and canals built after the 1973 Yom Kippur War. Hear about the war through which Israel captured this region and its strategic importance.
From viewpoints, look across three countries, Israel, Lebanon, and Syria, and from a safe distance, understand the Syrian Civil War which rages now across the border.
Continuing through the Golan, see the abandoned Academy where Syrian Army officers were trained when the Syrians controlled the Golan
Pass by Mount Bental, the famous observation point. Driving off-road, we'll have already reached more impressive viewpoints than there is here.
Along the way, we will hope to encounter some of the Golan's rich wildlife and will hear about the rich nature of the region.